Honey Ginseng
[
4589468720027
]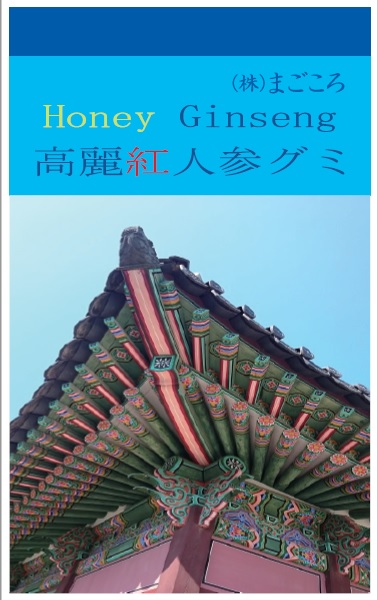 Honey Ginseng
This is made with valuable red ginseng and honey.
Ginseng is harvested from freshwater and several varieties are produced depending on the production method. Red ginseng is highly regarded as a luxury item with tremendous saponin content. There are many enterprises that sell these products under the guise that they are using South Korean ginseng but in truth, they are using inexpensive imitations that are not as healthy nor hygienic as the real thing. We at Magokoro are dedicated to giving you the best of the best.
Magokoro's Honey Ginseng uses carefully selected 100% South Korean Red Ginseng soaked and nourished with healthy eating honey to create an easy to eat, delicious, sweet snack.
CHECKPOINT: Recommended points
☆Eat 20 to 30 minutes before exercising
☆Eat before important business
☆Eat when feeling down or when fatigue sets in
☆Eat when feeling stressed or ill
☆For people who are concerned about dietary nutritional balance
☆Eat when you want to improve energy and spirit
☆For people who want to maintain a healthy and youthful vigour
☆For people who want to improve poor gastrointestinal health effects; helps with constipation and anorexia
☆For people who suffer from diabetes and are sensitive to the cold
☆For people looking to diet and suppress fat absorption
Magokoro Trivia: Keep this snack in the refrigerator. It can be enjoyed as a dessert.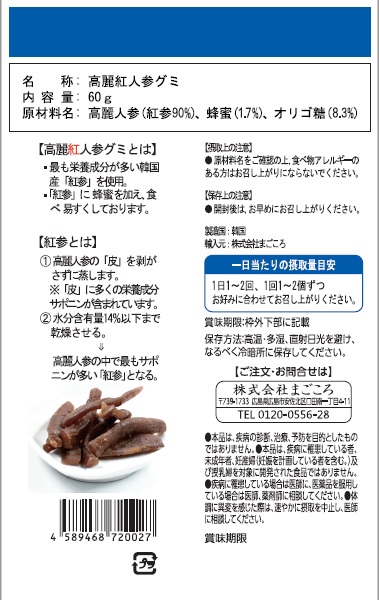 All orders of 5000 yen or more (excluding tax) qualify for FREE shipping nationwide.
A delivery charge of 600 yen will be added to all orders under 5000 yen (excluding tax)